dol·drums
/ˈdōldrəmz,ˈdäldrəmz/
noun
plural noun: doldrums
a state or period of inactivity, stagnation, or depression.
This has been me and writing recently.  Okay, not the depression part, just the inactivity and stagnation.
The truth is that it's really a time management issue.  I actually have lots of great ideas I want to write about, I just don't seem to find the time to actually do the writing (hence this short, and later than usual, post today).  However, this should be changing.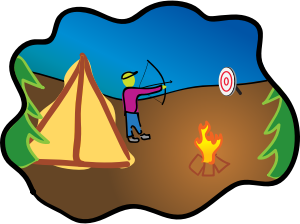 Last semester was pretty grueling but it's now over and my next class doesn't start until the second week in June.  And that class should be much easier with less writing as it is a web development class.  In the mean time, I have my mornings free so the time was I was doing class work can be devoted to writing.  Plus, during the first and last weeks of June, I'm chaperoning two youth campouts for my church.  The young women (my wife is one of the advisors for that group) are going on a 4 day camp at the beginning of the month, and the scouts (2 of my boys are working on their eagles) are going for a 3 day camp at the end of the month.  For the most part, I just need to be there, I'm not involved in conducting or running any activities soI'm planning on using that time to relax and get a bunch of writing done.
So look for more of my 3D printing articles as well as more of my "Designing Out Loud" series.  I've still got quite a number of models to describe (and I need to paint them as well) and have several thoughts stewing around in my head for my game design.  I just got a jump start in that area from Shane Winter who just sent me his home brew version of a revamped Star Frontiers rule set that he's working on (which reminds me I need to send him my comments).
The other thing I'll be working on is the sequel to my first book, Discovery.  This has been stewing around in my brain for a while and I need to get it out and on paper.  I might talk a little bit about some of the content here and there or I may not.  We'll see what happens.
In any case, I'm looking forward to a summer of writing and more substantial blog posts starting with next week's entry.
---
Categorised as: General
---