The Best Laid Plans of Mice and Men …
… are usually about the same.
For a year that started off with me wanting to write more on my blog, I haven't been too successful.  It's the end of January and this is only my third post.  However, things are looking up for the future.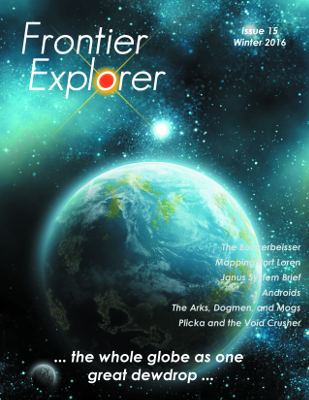 The main culprit was me trying to finish the next issue (#15) of the Frontier Explorer.  Which I did!  Click on the image to the right to grab a copy from DriveThruRPG or go to the Frontier Explorer website to grab a copy there.
The article list for this issue is:
The Buckerbeisser
Mapping Port Loren
Janus System Report
Woolies
Janus Fauna
Titian Rising: 2299
Androids
Get a Grip
The Arks, Dogmen, and Mogs
Mr. M
Plicka and the Void Crusher
The Stowaway
Grimz Guide Comic
The other distraction was starting up a new semester of grad school which included some travel.  That's all sorted out now so my schedule should settle down and allow me to get some more writing done for the blog.
Keep your fingers crossed.
---
Categorised as: General
---