It's a new year and it's time to get back to blogging once more.  I thought I'd start things out with a few bits and pieces of news and information.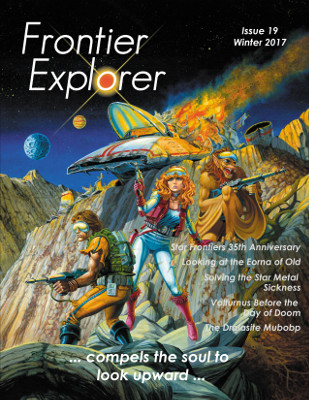 First, issue 19 of the Frontier Explorer was released last week.  You can grab a copy at DriveThruRPG or on the magazine's website.  2017 marks the 35th anniversary of the release of Star Frontiers and this issue takes you back to where most of our adventures began, Volturnus, Planet of Mystery.
Next, I've finally relaunched my personal website which you can find at http://thomasstephens.info.  I'll be blogging there was well.  Gaming related posts will still appear here and I'll link to them from my personal blog but over there you'll find posts of a more general nature or on non-gaming topics.  One thing I'll be posting is story bits.  I got a set of Rory's Story Cubes for Christmas and have been using them to generate writing prompts to exercise my story telling muscles.  Some of the stories may end up here but they'll mostly be confined to the other blog.
If you followed along on the Kickstarter that I did for the starship dice tower that I posted about back in November, the Kickstarter didn't fund but my wife surprised me with a 3D printer for Christmas and I can now make the dice towers available for even less that the original Kickstarter price.  If you'd be interested in one, jump over to my New Frontier Games website and order one.
Finally, I've embarked on recreating the station map from the Knight Hawks expansion from Star Frontiers.  I recreated the Port Loren map back in 2015 and am now going to tackle this one.  More notes on that to follow in the coming days as I work on it but here's a quick sample that I did to get started.
That's it for now.
---
Categorised as: General
---