Frontier Explorer Issue 7 Available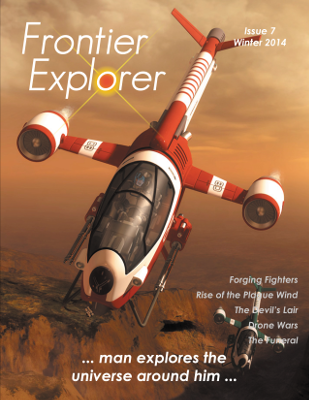 Issue 7 is now available for download.  You can get it at the Frontier Explorer website or on DriveThruRPG/RPGNow.  This issue brings us a couple of new authors, Daniel R. Collins and Jason Combs, both with great articles on new fighters – one about new fighters to use in the game and one about new fighter miniatures. We also have a new location on Volturnus, some new equipment for space vehicles and a new sathar vessel.  The issue definitely ended up with a slant toward starships although we didn't intend it that way.
This issues contents are:
New Player's Primer: Yazirians
Forging Fighters
Rise of the Plague Wind
The Devil's Lair
The Sac-laang, Ash-Laa, and Osakar Legend
Nascom Automated Systems for Aerospace
Drone Wars
Hidden Dangers
The Funeral
Grimz Guide Comic #7
Grab your copy today and check out all the new material.  And as always, keep exploring!
Note: Work, holidays, and vacations caused a bit of hassle with this issue so we're a bit behind in getting it out and getting the HTML version on-line.  Bear with us as we finish it up.  The PDF version, which is how most of you get the content is ready for download however.
---
Categorised as: Game Aids | Resources
---